Brookfield India Real Estate Trust IPO: Should you subscribe?
Brookfield India Real Estate Trust is the third Real Estate Investment Trust (REIT), after Mindspace Business Parks REIT (2020) and Embassy Office Parks REIT (2019) to come out with an IPO. There has been a flurry of IPOs in 2021, and this is the fifth in a long list of IPOs in 2021 after Indian Railway Finance Corporation, Indigo Paints, Home First Finance Company and Stove Kraft.
What is a REIT?
A Real Estate Investment Trust (REIT) refers to an entity that has been created with the sole objective of investing funds into operating, owning or financing income-producing real estate. REITs are very similar to mutual funds. They both are modeled on the same basis. REITs provide investors with an extremely liquid way to get a stake in real estate
Company Profile
The company is headquartered in Mumbai, and is India's only institutionally managed public commercial real estate vehicle. Brookfield Asset Management (BAM) are its sponsors. Its initial portfolio comprises 14.0 million square feet (msf), with rights to acquire a further 8.3 msf and rights of first offer on an additional 6.7 msf, both currently owned by members of the Brookfield Group.
Key Operating Metrics for the Brookfield IPO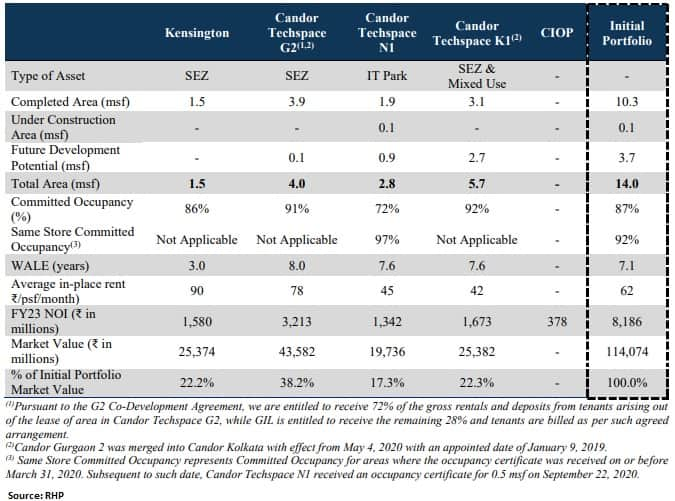 IPO details
The Brookfield India Real Estate Trust IPO opens for subscription on February 3rd 2021 and closes on February 5th 2021. The price band for the issue has been fixed at ₹274-₹275 per unit. Each lot size is 200 units and would cost ₹55,000 at the upper price band.
Brookfield REIT is issuing units adding up to ₹3,800 crores. It had raised ₹1,710 crores from its anchor investors prior to the IPO. The funds raised from the IPO would be used for partial or full pre-payment or scheduled repayment of the existing indebtedness of asset SPVs; and general corporate purposes.
Verdict
Considering the increasing trend of work from home it is highly likely that the trust may not grow at a very rapid pace and the trust is overly concentrated in the Gurugram market. The IPO has been assigned a NEUTRAL rating.
You can apply for the IPO here.